---
Lasting Impressions Photography is based in the
Marshall/Sun Prairie area and services the greater Madison, WI area. It is a full-service studio that was started in 2002;
but Misty Bindl, the photographer, has been working in the business since 1997.

​I create portrait art for newborns, children, families and high school seniors, as well as providing freelance work for businesses and corporations. In the end, the goal is to capture the fleeting moments that we'll never get back and turn them into works of art.

More about Misty...
I've always had a passion for photography.
I received my Bachelor's Degree from UW-La Crosse,
while majoring in Public Relations and minoring in Photography.
In 2018, Misty earned her certification as a Certified Professional Photographer (CPP) from the Professional Photographers of America (PPA).

Much like everyone else, I keep busy with my family and hobbies. My husband and I have two great kids who keep me on my toes.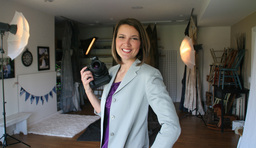 Community Involvement:
Photography instructor at PhotoMidwest.
Photography Project Leader for the Sun Prairie Happy Hikers 4H Club.
Donates to the Marshall Main Street Mania, Marshall Wrestling Club, Marshall Athletics, Waterloo Athletics Booster, Marshall Scholarship Foundation, and area Post-Proms, among other things.
Volunteers and donates to Santas Without Chimneys during the holidays.
Volunteers at Generations Park in the Town of Sun Prairie.
Volunteers at the Northeast YMCA as a youth track coach.
---
Studio Location
5821 Fox Tail Road
Marshall, WI 53559-8972
(conveniently located between Sun Prairie & Marshall, just a couple of miles off I-94)
---